Toni Loco concept
THE ENTOURAGE GROUP has reached yet another milestone with the opening of their new Italian-American style pizza restaurant, Toni Loco. Situated only footsteps away from their beloved IZAKAYA and THE BUTCHER. Toni Loco serves a unique selection of artisan beverages, from craft beer, selected wines and champagnes. But what's dinner without dessert? Toni also serves homemade gelato.
Toni Loco's interior is utilitarian with a touch of sophistication. Interior architect, Pieter Kool, realized the brand identity, with a single gesture in material and colour palette. A 'one size' concrete tile grid system wrap the floor and walls. Much like the purist approach to their pizzas, the interior is minimalistic with careful attention to detail. The raw yet refined interior is finished with round mirrors to draw attention to the heart of the space – the kitchen.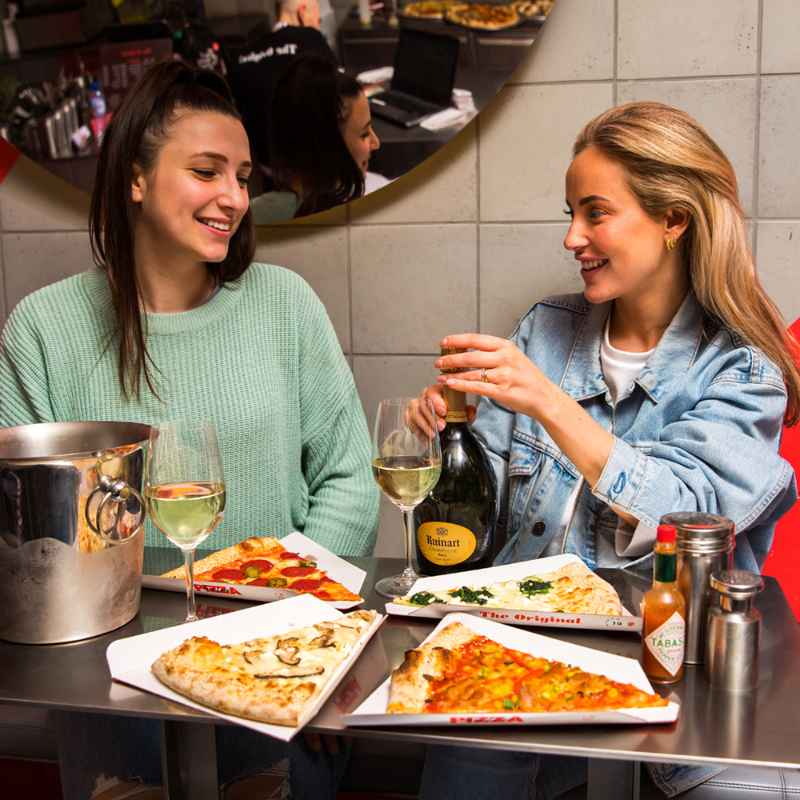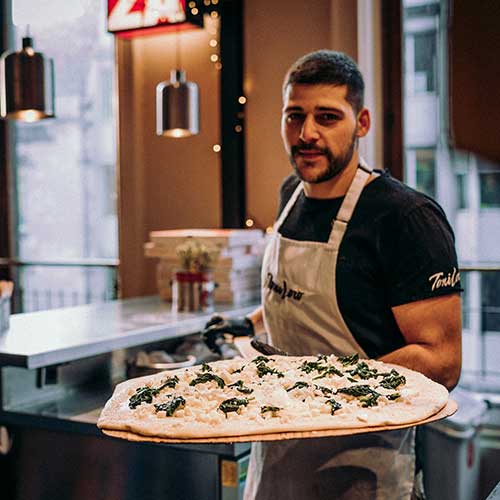 What defines Toni Loco?
Featuring authentic 50 centimetre pizza made with a characteristically large hand-tossed thick crust, in wide slices. Toni only chooses the best ingredients and strictly by-the-book authentic toppings, fresh vegetables, the special signature tomato sauce and shredded mozzarella, right down to the homemade sesame crust to green pizza constantly commits to creating more than just quality pizza.
As we are a passionate team of professionals, we are looking for driven entrepreneurs and business owners who share the passion to make their location a success.
Toni doesn't mess around with what 's right
Serving traditional pizzas with a modern twist, expect to indulge in an array of new tastes, from sesame crust to green pizza. Not compromising on the classics, Toni has it all; Bianca, Rosa, Olivio and tailor-made pizzas.
We provide you a turn key solution: Interior design, kitchen equipment, furniture, wall art, packaging materials, food, all provided for you
We help you to train the team: Your team will be trained in one of our locations. We assist with menus, pricing, and everything else, to help prepare you to be ready to operate
The support doesn't stop after opening: We will continue to provide you with support to ensure that your sales, quality and team engagement remain high, including global marketing and social media
Once you are committed to us, we are committed to you
The Toni Loco franchise structure allows you to establish yourself as an independent entrepreneur and at the same time benefit from the experience of a strong and professional team within a proven system. Continuous marketing is carried out to further develop the brand awareness and drive sales.
If you are interested then please fill out the enquiry form and our Franchise team will be in touch soon.
Franchise
Application Form
Fill out the form below and our franchise team will contact you shortly.